For women It can be difficult to find the perfect side business. You're looking for something that's adaptable, so that you can manage your family. Also, you want something that can earn you some extra cash. This is why we come up with the top 100+ top side hustles for women.
Earn Extra Money: 115 Side Hustles For Women
Blogging
Podcasting
Freelance Writing
Resume Writing
Ghostwriting
Self Publish Books
Proofreading College Admission Essays
Newsletter Writing
Create An Online Course
Facebook Community
Starting A Youtube Channel
AudioBook Reading
Streaming
Teaching English Online
Digital Captioner
Translation Services
Medical Transcriptionist
Influencer Posting
Digital Products Host/Seller
Bookkeeping
Prepare Taxes
Data Entry
Virtual Tech Support
Virtual Assistant
HR Consultant
Business Consulting
Small Business Marketer
Instagram Marketer
Affiliate Marketing Sites
Web Design
Computer Repair Services
Programming
Graphic Design
SEO Consulting
Virtual Recruiter
Social Media Strategist
Survey Taking
Consumer Research
Mystery Shopping
Creating Local Experiences
Local Tour Guide
Corporate Events Planner
Local Reviewer
Create After School Programs
Tutor
Virtual Learning Teacher
Hiking Classes
Group Fitness Class
Fitness Coaching
Weight Loss Coaching
Dance Classes
Gymnastics Classes
Food Delivery Driver
Grocery Shopper
Grocery Delivery Service
Uber/Lyft Driver
Car Flipping
Car Detailing
Catering
Cooking For Families
Personal Chef
Mobile Laundry Service
Pool Cleaning Service
Home Cleaning Service
Organizing Services
Baking
Popcorn Popper
Soap Making
Candle Making
Bath Products Production
Party Planning
Event Planning
Makeup Artist
Hair Styling
Nail Design
Manicurist/Pedicurist
Babysitting
Sell Breast Milk
Start A HomeDaycare
Rent Infant Furniture and Gear
Petsitting
Pet Grooming
Housesitting
Dog Walking
Pet Waste Removal
Real Estate Agent
Sewing Services
Tailoring
Creating Custom Crafts
Buying and Selling Used Books
Antiquing
Making and Selling Jewelry
Reselling Jewelry
Selling Clothing
Modeling
Personal Stylist Services
Makeup Salesperson
AirBnB Hosting
Home Inspection Services
Consignment Business/Website
Interior Decorating
House Staging
Interior Painting
Work As A Doula
InHome Elder Care
InHome Hospice Care
Wedding Photography Business
Portrait Photography
Maternity Photography
Family Photography
Get Paid to Lose Weight
Resell Shoes
Gift Wrap Services
Knife Sharpening
Start A PrintOnDemand Store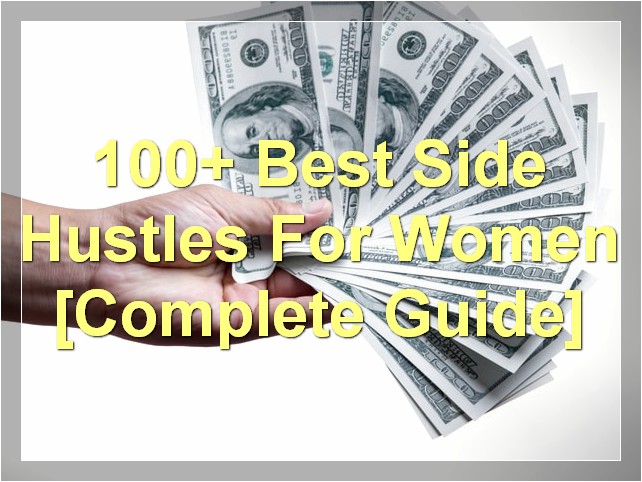 Final Thoughts on Side Hustles for Women
There are a variety of methods women can make extra money There isn't single best method for doing it. The most important thing is to identify a niche that you're interested in and are able to sustain for the long term. Once you've identified your area of expertise it's essential to think outside the box and advertise yourself effectively. If you're able to accomplish those things, you'll be on the way to success.