If you're looking to make some extra money, or even start a new career, then you need to check out this ultimate guide to making money with Photoshop!
What is Photoshop?
Photoshop is a program that allows you to create and edit images. It is a very powerful tool that can be used to create stunning artwork and photos. Photoshop is also a great way to retouch photos and create digital illustrations.
Photoshop Alternatives
There are a lot of reasons why you might be looking for a Photoshop alternative. Maybe you're a beginner who doesn't need all the bells and whistles of Adobe's program. Maybe you're on a budget and can't afford the expensive monthly subscription. Or maybe you're just fed up with all the crashes and bugs. Whatever your reason, there are plenty of great Photoshop alternatives out there that are both cheaper and faster.
One of the most popular Photoshop alternatives is GIMP. This open source program has been around for years and is constantly being updated with new features. It's also available for free, which makes it a great option for those on a budget. Another popular alternative is Paint.NET, which is also free and open source. This program is slightly more user-friendly than GIMP, making it a good choice for beginners. If you're willing to pay for a subscription, two of the best alternatives are Affinity Photo and Corel Painter. Both of these programs offer a wide range of features and are much cheaper than Photoshop.
How to Make Money with Photoshop
If you're skilled with Photoshop, you can make money by offering your services to businesses and individuals who need help with their design projects. There are a number of ways to do this, including working as a freelancer, setting up a design studio, or becoming a consultant.
As a freelancer, you can offer your Photoshop services to clients on a per-project basis. This means that you'll only get paid for the projects that you complete, and you'll need to find your own clients. There are a few ways to find clients as a freelancer, including online job boards, networking, and cold-calling.
If you want to set up your own design studio, you'll need to invest in some equipment and hire some staff. This option is best for those who have a steady stream of clients and can handle a lot of work at once. You can also use your design studio to offer other services, such as web design, branding, and print design.
Becoming a consultant is another option for those who want to make money with Photoshop. As a consultant, you'll offer your expert advice to businesses who need help with their design projects. This option is best for those who have extensive experience with Photoshop and are familiar with the latest trends in the design industry.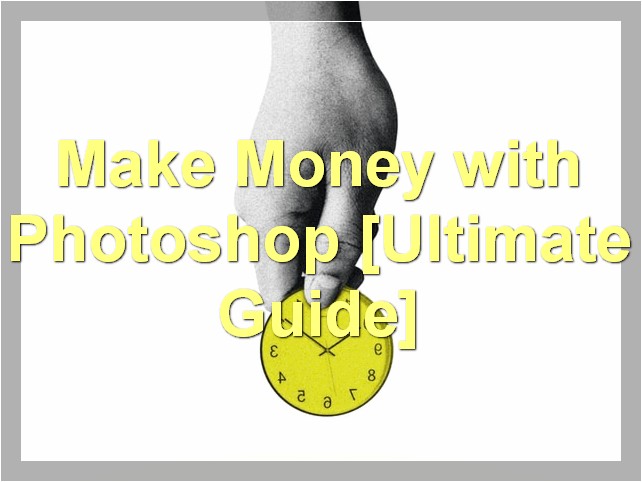 How Much Money Can One Make with Photoshop?
It really depends on how good you are with the program and what kind of work you're doing. If you're a freelance graphic designer, for example, you could potentially charge $50-$100 per hour for your services. If you're working as an in-house designer for a company, your salary will likely be much higher. Of course, there are many other factors that can affect how much money you make, such as experience, location, and the type of industry you work in.
Tips to Make More Money with Photoshop
Create a niche market: When it comes to Photoshop, there are a lot of things you can do. However, if you want to make more money with Photoshop, you need to focus on creating a niche market. This way, you can become an expert in one area and command a higher price for your services.
Offer custom services: If you want to make more money with Photoshop, you need to offer custom services. This means going above and beyond what the average Joe can do. Whether it's creating custom graphics or photo editing, you need to offer something that others aren't.
Be fast and efficient: In the world of Photoshop, speed is everything. The faster you can complete a project, the more money you'll make. That's why it's important to be as fast and efficient as possible.
Stay up-to-date: Photoshop is constantly changing and evolving. If you want to make more money with Photoshop, you need to stay up-to-date on the latest trends and techniques. This way, you can offer your clients the latest and greatest services.
Market yourself: Last but not least, if you want to make more money with Photoshop, you need to market yourself. Let people know what you can do and don't be afraid to put yourself out there. The more people who know about your services, the more business you'll get—and the more money you'll make.
Final Thoughts on Making Money with Photoshop
If you're good with Photoshop and you're looking for a way to make some extra money, then you should definitely consider offering your services as a freelance designer. There are plenty of businesses and individuals out there who are in need of someone with your skills, and if you're able to deliver quality work, then you can easily earn a decent income from this type of work.
So, if you're ready to start making money with Photoshop, then start searching for clients today. With a little effort, you can easily find plenty of work and start earning a great income from your design skills.