Check out the top 75 side jobs for kids on this list if you're a teen trying to earn some additional money. You can find a side business on this list that's ideal for you, from tutoring to mowing lawns to walking dogs. So why are you still waiting? Start earning extra money right away!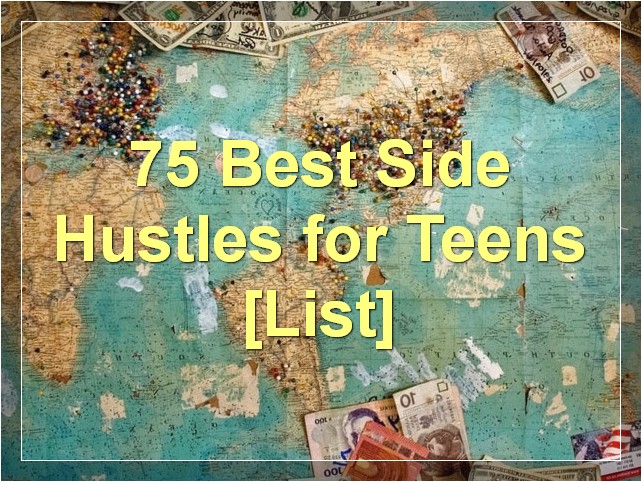 Best Side Hustles for Teens
Pet Sitting
Blogging
Take Online Surveys
Participate in Paid Focus Groups
Delivering Food
Delivering Groceries
House Sitting
Dog Walking
Babysitting
Lifeguard
Advertise on Your Car
Charge Scooters
Detail Cars
Consider Landscaping
Clean Homes
Check Out These Similar Posts
Haul Junk with a Truck
Flip Shoes
Flip Furniture
Flip Electronics
Teach Music Lessons
Work as a Tutor
Start a Vending Machine Side Hustle
Flip Baseball Cards
Wash Windows
Clean Pools
Work at the Concession Stand
Start a Painting Side Hustle
Become a Woodworker
Work as a Mystery Shopper
Complete Odd Jobs
Groom Pets for Extra Money
Work as a Camp Counselor
Try Retail Arbitrage
Work as a Referee
Have a Garage Sale
Flip Things at Flea Markets
Flip Things on Facebook Marketplace
Shovel Snow for Neighbors
Work as a Rideshare Driver
Pick Up a PartTime Job
Work as a Movie Extra
Distribute Flyers for Small Businesses
Start an Oil Change Service
Work as a Personal Trainer
Freelance Writing
Virtual Assistant
Participate in Medical Studies
Start a Podcast
Start a YouTube Channel
Invest in the Stock Market
Invest with Fundrise to Build Wealth
Watch Videos Online
Sell Online Courses to Make Money as a Teen
Sell Digital Products Online
Play Games for Cash
Flip Domain Names
Flip Websites
Start a Niche Site
Teach English Online
Work as a Transcriptionist
Start an Etsy Shop
Start an Ecommerce Store
Become a Social Media Influencer
Build Websites for Businesses
Run Digital Advertising Campaigns
Start a Social Media Management Side Hustle
Start an Amazon FBA Store
Work as a Freelance Graphic Designer
Sell Stock Photos Online
Shop Online to Make Extra Cash
Test Websites for Additional Money
Get Paid to Read Emails
Work as a Proofreader
Become a Search Engine Analyzer
Simple Ways to Make Money as a Teen Without a Job
Even if you don't have a job, there are many methods for teens to make money. Start by searching your home for items you may sell, such as clothing, accessories, furnishings, or technology. You might also inquire about any used items your parents might be willing to sell. Setting up your own sale is a way to earn money if you have an aptitude for yard sales.
You can also explore for possibilities to perform odd jobs for locals. This could entail mowing lawns, shoveling snow, or walking dogs. You can earn money by keeping an eye on other people's pets while they're away from town if you're a skilled pet sitter.
Selling arts and crafts online or at neighborhood fairs and festivals is another innovative way to earn money. If you have good photographic skills, you could be able to sell your images offline or online.
Whatever path you choose, there are many options for teens without jobs to earn money. Just make sure to check the legitimacy and safety of any opportunity before pursuing it.
Side Hustles for 18-Year-Olds
There are several ways for 18-year-olds to earn some additional money. Here are some suggestions:
Provide boarding for animals. This can be a fantastic opportunity to get some additional money if you have a love for animals and are trustworthy. To ensure that you are able to run a pet-sitting service in your area, make sure to conduct your research ahead and verify with your local laws.
Open a lawn-care company. For individuals who love being outside and aren't scared of a little work, this is a fantastic alternative. You can start by telling your neighbors and friends about your services, and then take it from there.
Help out neighbors in need by doing odd jobs. There are always people who need help with things and are ready to pay for it, whether it's mowing their lawn, walking their dog, or doing errands for them.
Present yourself as a tutor. If you excel in a certain subject, children in your neighborhood can learn about your tutoring services. This is a fantastic opportunity to earn some additional cash while also lending a hand to others.
Market products you've created or designed. If you're crafty and talented, you can sell your products online or at markets and craft fairs in your community. This is a fantastic approach to develop your pastime into a successful business.
There are countless ways for 18-year-olds to supplement their income. Just be careful to pick something you're enthusiastic about and know you can succeed at. You may earn money doing what you love with moderate effort and commitment.
How Much Money Can Teens Make from Side Hustles?
Although there are many ways for teenagers to make money, side jobs are one of the most common. Regular part-time tasks that can be done in addition to a regular employment or school are known as side hustles. Although they might be a lot of effort, they can also be a terrific way to earn some additional cash.
What is the potential income from side jobs for teenagers? The kind of side business, how frequently they work, and how much they charge all play a role in this.
Let's use the example of a teenager walking a puppy. They might walk two dogs for an hour each day for $10 per walk. They would earn $280 each week. They would earn $1,120 in a month and $13,440 in a year if they worked five days a week.
Naturally, not all side jobs will be quite so lucrative. Before determining how much money a youngster may reasonably anticipate to make from their side hustle, it's crucial to take into account how much time and effort they are willing to put into it.
Final Thoughts on Side Hustles for Teens
Teenagers can earn extra money through a variety of side businesses. There are various alternatives, ranging from lawn mowing to dog walking. It's crucial to pick a side business that you'll enjoy doing and that's good for you. Before beginning any side business, make sure it is reputable and that you are getting paid what you are worth.