Yes, you may support yourself by using Doordash. Here is a how-to manual for the task.
How Does DoorDash Work?
With the help of DoorDash, customers can order food from their favorite restaurants and have it delivered to their homes. The business was established in 2013 and is now accessible in more than 600 cities across North America.
Customers can sign up for DoorDash and then browse the restaurants in their neighborhood after creating an account. They choose the menu items they desire and put them to their basket after finding a restaurant they'd like to order from. Then they can select a delivery time and complete the checkout.
A DoorDash driver will be sent to pick up the food and deliver it to the customer's location after an order has been made. Through the DoorDash app, clients can monitor their driver's progress and get notified when the driver arrives.
What Kind Of Pay Can You Expect From DoorDash?
By picking up and delivering food orders for DoorDash users, you may make money as a Dasher. The quantity and intricacy of the order, the travel time to the customer's location, and the time it takes to finish the delivery are just a few of the variables that affect your pay. Dashers typically make between $10 and $15 per hour.
Requirements to Drive For Door Dash
People can order food from their preferred restaurants through the meal delivery app Doordash, and it will be delivered to them. The app is accessible in many American cities, and it is constantly spreading into new regions.
Driving for Doordash could be a wonderful alternative if you're searching for a flexible method to earn some additional money. Before you begin, you should be aware of the following:
A valid driver's license and the age of at least 18 are requirements.
A vehicle that is in good operating order must be available to you.
You'll have to pass a background investigation.
You must be able to lift objects weighing up to 30 pounds.
You must have the ability to work during busy times, which are often lunch and dinner on weekdays and weekends.
You can register to become a Dasher through the Doordash website or app if you satisfy all of the aforementioned prerequisites. You can begin accepting delivery orders and making money as soon as you sign up.
Ways To Make Extra Money On DoorDash
On DoorDash, there are numerous methods to earn more income. Dashers can benefit from chances to make deliveries during busy periods, finish orders fast, and more.
Deliver during busy times: DoorDash offers bonuses for Dashers who deliver during peak hours. These extras can cost an extra $1 to $5 per delivery. Dashers should frequently check the app to see when these benefits are being offered in order to take advantage of this.
Finish orders promptly. DoorDash offers "Fast Delivery Bonuses" to Dashers who finish orders swiftly. This compensation typically ranges from $1 to $3 each delivery.
Refer other Dashers: For each new Dasher you refer who completes their first delivery, DoorDash will pay you a bonus. The incentive varies in size, but it often ranges from $5 to $10.
Fulfill numerous orders: You can receive a "Multi-Order Bonus" if you can complete several orders in quick succession. This bonus varies from $0.50 to $1 for each additional delivered order.
Join a power zone: According to DoorDash, certain locations are considered "power zones." There is a considerable demand for delivery in these areas. Deliveries in these locations can result in higher hourly pay than usual for dashers. The bonus varies in size, but it usually ranges between $1 and $2 per hour.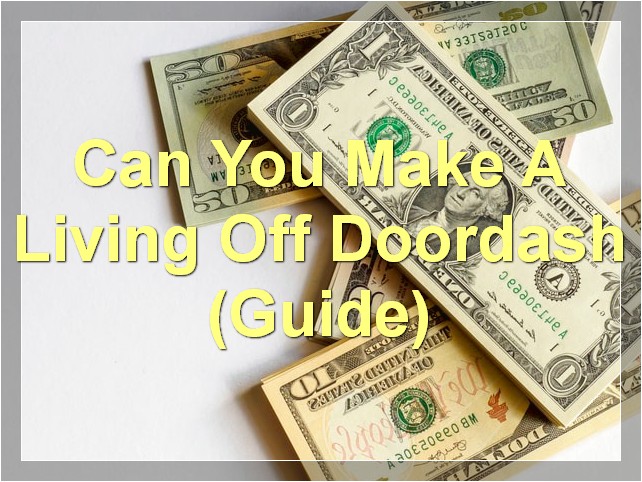 How Does DoorDash Compare With Other Driving Apps
With the help of the driving app DoorDash, people can order food from restaurants and have it delivered right to their door. Over 4,000 cities in the United States and Canada have the app available. There is a fleet of independent contractors working as drivers for DoorDash.
In that it enables users to buy food from restaurants and have it delivered to their doorstep, DoorDash is comparable to other transportation apps like Uber and Lyft. However, there are several significant distinctions between DoorDash and its rivals.
For starters, unlike Uber and Lyft, DoorDash does not use GPS to track drivers. The time it will take a driver to get to the restaurant, pick up the meal, and deliver it to the consumer is instead factored into the algorithm used by DoorDash. Customers benefit from more precise delivery timeframes as a result.
Another distinction is that DoorDash lets users tip drivers directly from the app. Customers must give tips to their drivers directly because Uber and Lyft lack this option.
Last but not least, DoorDash and McDonald's have a collaboration that enables users to order McDonald's using the app and have it delivered to them. Uber and Lyft do not permit this.
Final Thoughts on Can You Make A Living Off DoorDash
If you're considering becoming a DoorDash driver, you may be wondering if you can support yourself financially. Yes, you can make a livelihood off of DoorDash, but it won't be simple, is the succinct response. It will require a lot of effort, commitment, and hustling. But there's no reason why you can't make a good livelihood as a DoorDash driver if you're prepared for the effort.
There you have it, then. Is DoorDash a viable source of income? Yes, you can, but it won't be simple. But there is no reason why you cannot succeed if you are prepared to put in the necessary effort.