If you're looking for a way to make some extra money, then you'll want to check out this list of digital side hustles. From online surveys to selling products online, there's something on this list for everyone. So what are you waiting for? Start making some extra cash today!
What is a Digital Side Hustle
In the 21st century, the internet has become an essential tool for earning a living. A digital side hustle is any online activity that earns you money outside of your regular job. It can be anything from starting a blog to becoming a social media influencer to selling products and services online.
There are endless opportunities for making money online, and a digital side hustle is a great way to supplement your income or even replace your regular job entirely. If you're looking for ways to make extra money, here are some of the best digital side hustles you can start today.
Best Digital Side Hustles
Blogging
Podcasting to Make Money
Start a YouTube Channel
Become a Social Media Influencer
Build Websites for Local Businesses
Work as a Freelance Writer
Offer Digital Advertising Services
Start an Ecommerce Store
Complete Online Surveys
Complete Paid Focus Groups
Start a Virtual Assistant Business
Sell Online Courses
Sell Digital Products to Earn Money Online
Tutor Online
Publish a Book to Build Wealth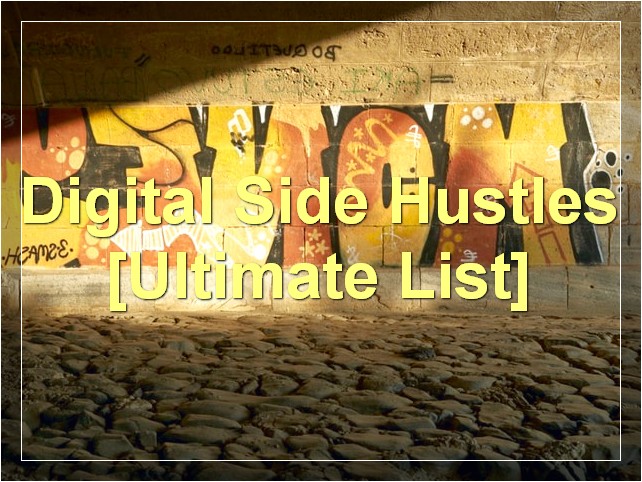 Final Thoughts on Digital Side Hustles
If you're like most people, you've probably thought about ways to make some extra money on the side. With the rise of the internet, there are more opportunities than ever to make money online. But with so many options out there, it can be tough to know where to start.
That's why we've put together this list of our favorite digital side hustles. These are all easy to start and can be done entirely online. And best of all, they can all help you make some extra cash without too much effort.
Start a blog: This is a great way to share your passion with the world and make some money in the process. If you're not sure where to start, check out our guide to starting a blog.
Sell products online: Whether you're selling your own products or someone else's, there are plenty of ways to make money by selling things online. Check out our guide to selling products online for more ideas.
Do some freelance work: If you have a skillset that others need, you can use it to make some extra cash by doing freelance work. There are a number of different platforms you can use to find work, such as Upwork, Fiverr, and Freelancer.com.
Take surveys: There are a number of companies that will pay you for your opinion. While you won't get rich taking surveys, it's an easy way to make some extra cash in your spare time.
Participate in focus groups: Focus groups are similar to surveys, but they usually involve discussing a product or service in person or over the phone. Companies use focus groups to get feedback on new products or services before they launch them. You can usually find focus groups that are looking for participants by searching online.
These are just a few of the many digital side hustles you can start today. So if you're looking for a way to make some extra money, don't wait any longer – get started today!